Growth plans are all-too-easily derailed, especially when the growth target is ambitious, leaving companies or products floundering in the Chasms of Failure™. In part one of this series, I reviewed some common growth tactics and why they might not go as planned. In parts two, three and this part, four, I discuss each of the three Chasms of Failure and how to identify what is going wrong. In the conclusion of this series, I will discuss how to identify and implement steps to help you recover and get your growth back on track.
In parts one, two and three, I reiterated a point I cannot overstate: Focus is the critical element of growth. I assume, for this discussion, you've already identified your target audience, you know their needs and aspirations, and you know exactly what promises you want to make to make their aspirations possible. Part three showed how getting your offering aligned to those promises is the next piece of the growth puzzle.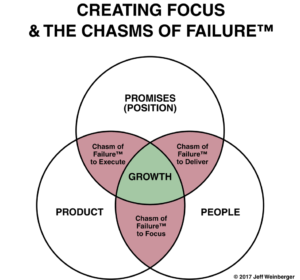 I'll now shift to discussing the Chasm of Failure to Execute. If you've worked in any growing company, you've heard — probably quite often — that execution is the key to success. It is (it's not the only requirement, but you can't succeed without it). Achieving your growth plans is no exception to the rule that execution is critical.
Execution in this context, however, means specifically delivering on all the promises you have chosen to make to your customer. It's not a set of tasks or a checklist of things you complete. Delivering on your promise means your customer has achieved what you promised they would by using your offering. If you want to make your customer a hero, you can't count yourself successful until your customer is, in fact, a hero.
What?
Falling in the Chasm of Failure to Execute is often as simple as a lack of communication. Maybe you didn't fully understand what the customer meant when they expressed a given need. Maybe your sales team understood it, but didn't communicate it as well as possible to your customer success team, which then missed some key action. Sometimes, it can be a result of a failure to act, but lack of communication is often the thing that pushes you over the edge.
When you are in the Chasm of Failure to Execute, it will likely feel frustrating. You'll see symptoms such as increasingly unhappy customers, or customers you thought were doing well suddenly complaining or leaving. Your teams may have no good explanation for the sudden unhappiness or may find blame in other teams, leading to finger-pointing. You will likely see lots of meetings to review problem situations, and your teams getting more and more frustrated with endless questioning. If you don't pull out of this Chasm of Failure, you may find an increasingly political atmosphere and key departures.
The Chasm of Failure to Execute might look something like this:
A mid-size software company was trying to restart its stalled growth. Using the Growth Driver approach, they started by looking at current customers and other potential prospects, and chose a segment on which to focus. Interviews and market analysis revealed an area of frustration for potential customers that no one else in the industry was addressing. They looked at the concerns map, alongside the capabilities of the company, and developed the short list of promises they knew they could make that would also deliver significant value, completing the "Promises" section of the growth puzzle. Then they built the product and validated it with key potential and current customers. With these companies excited about what they saw, they had completed the "Product" section of the growth puzzle.
When the product came out to market, it was well-received with lots of excitement. But it didn't sell. Prospects said it sounded good, but the company's salespeople couldn't explain how it would achieve their goals. Other potential customers said they had the problems the product was designed to solve, but they couldn't figure out how the product would solve them. A few customers who tried the product said their technical support contacts couldn't help them find their way through complex operations.
What underlies all these issues is that the people who were ultimately responsible for keeping the company's promises did not have the knowledge or understanding of the promises and how the company would meet them to keep those promises to the customer. Salespeople didn't know how those promises made their prospects heroes, and technical support people didn't know what promises were being made or how the company intended to fulfill them.
The company started a series of hands-on trainings that put salespeople, technical support people and others who worked with customers in the role of their customer and helped them understand what the customer was trying to achieve, how and how the company's product helped that happen.
As those trainings took place, there were fewer and fewer complaints, and the product started to sell more and more to happier customers.
The Way Out of the Chasm of Failure to Execute
This bears repeating: Knowing the promises you intend to make to your customers is always the first step out of every Chasm of Failure. It's not enough to choose promises to make, you must constantly validate them with your customers to ensure you are delivering the value you think you are — and that your customers expect.
Climbing out of the Chasm of Failure to Execute means understanding that every single person who interacts with a customer in any way affects your company's relationship with that customer — and how much they trust you. It may not be intuitive to train technical support teams on your customer's every strategic business objective, but when they do have that knowledge, they can not only solve technical problems, but they can ensure those solutions help the customer achieve their goals. Getting everyone in the company to execute every single day on every single promise you make may sound hard, but it is also the focus, delivery and execution you need to keep your growth on track.
Having everyone in your company doing their job well makes for a job well done. When everyone consistently understands and delivers on the company's promises, your customers will rave about their success — all because of you.
In the last part of this series, I will discuss discovering and making promises, building customer trust and how to scale your focus to become a market leader.