This is not your grandfather's customer marketing.  A business that depends on—or hopes to depend on—subscription (or recurring) revenue must relate to its customers in a fundamentally different way than a traditional one-time-sale business.  But the changes go deeper than just the customer relationship. To be successful in a subscription business, companies must rethink their own business operations.  Let's take a look at what that means for marketing.
The question I ask you is simple:  are you actually marketing to your customers?  Or are you just keeping in touch and hoping they'll stick around?
Customer marketing is one of the simplest business changes you can make to succeed in the recurring revenue business.  You don't need any new skills or expertise, and the processes you need already exist (I hope) in your current organization.  The work you need to do is translating them to apply to your current customers.
The Journey and the Funnel

You have, undoubtedly, spent much of your marketing career thinking about—and seeing many different flavors of—the marketing funnel.  I'm going to guess your idea of a marketing funnel or customer journey looks something like this: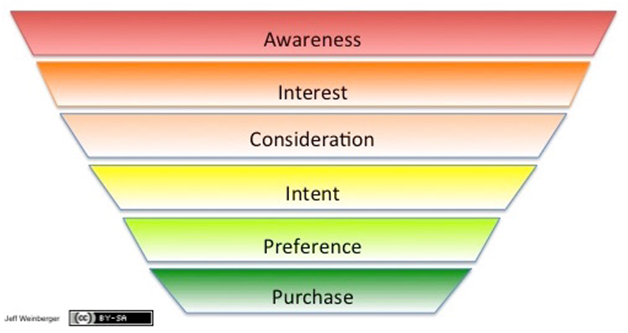 This gives your marketing organization a good working model and, I hope, a deep understanding of how someone in the market becomes aware of your product or service and how they get from initial awareness to making the decision to purchase.
You also have a set of processes and practices that make your marketing work, make potential customers aware of your offerings and help them make the decision to purchase. These include marketing campaigns and programs, content development and distribution, branding efforts, and much more.
I hope in reading this so far, you're thinking:  "Yes, I do all of that really well.  Why do I need to rethink this?"
Customer Marketing:  Before

You might have a function in your marketing organization called customer marketing. Depending on how you've organized your team, this function does anything and everything from customer references, to success stories, to customer events and conferences, and to customer loyalty programs.  You probably also have a way to keep customers informed of new products, updates, and other information you consider important, or that you think will help customers decide to buy from you again.
Rethinking from Day One

Day One is the day your customer becomes your customer, the day after the contract is signed, the day the customer starts getting value from your product or service.
It's also the day your sales and marketing organizations step out of the picture and hand that customer off to your customer success organization.  Every day from then until the customer leaves you, the primary contact for that customer will be in your customer success organization.  That organization is then tasked (maybe via its own sales team) with ensuring your customer renews their subscription or comes back to you year after year.
In a recurring revenue business, the repeat or renewal sale is just as important as the initial sale.  Sometimes, we assume this sale is easier because we're dealing with a customer who has already decided they get value from our offering.  That makes it no less important.
Rethinking customer marketing means treating your new actual customer on Day One just like the new potential customer who has only just become aware of your offering.  Day One begins a whole new marketing and sales cycle.  Day One means building a whole new relationship with your customer.
Customer Marketing:  After

The goal is simple:  keep as many customers as you can.
The process is simple:  apply your current marketing funnel or journey, programs, and processes to your current customers.
The transition is not so simple:  learn how your customers go from new customers on Day One to a renewal sale.  Then how they do that again next year.  And again the following year.
The transition requires you to examine both your business and your customers in new ways. You need to ask:
Why do my customers renew (not your long held beliefs; look at the data), why don't they, and how do I tell the difference between customers who renew and customers who don't?
What actions do I take right now that make a difference (again, based on the data) in whether customers renew?
How am I helping my customers realize value and renew?
Are my internal incentives (marketing, sales, and customer success) aligned with a goal of maximizing renewals?
Then you need to redefine your customer funnel or journey. It will look something like this:
Then you need to design marketing and sales programs, campaigns, and other efforts around that to help your customers move from purchase to renewal (not to frustration and departure).
Organizations that do this successfully create a microcosm of a marketing team within the customer success organization.  This becomes a team that is charged with the full range of marketing and marketing operations functions (except corporate branding and PR, generally), and is measured on the same goals and outcomes as the marketing organization such as leads (which become expansion or adoption programs), conversions to sales (which become integration and realization of value), and sales (which become renewals).
Transformation to Customer Marketing

Rethinking customer marketing as though it were a full marketing function changes the way you relate to your customers.  It can also have dramatic effects on the success of your renewal programs, bringing your renewal rates to new heights and your churn rates to new lows.
And, if you are having great conversations with potential customers in your market, imagine how valuable those conversations will be once your current customers—your loyal fans—are part of them.
How is your organization evolving customer marketing?  Tell us in the comments!