If you are CEO or CMO, growth is at the top of your priority list. You and your team are putting a lot of your time, effort and money into creating plans to fuel your growth and then into executing those plans.
Companies I've worked with typically attempt to create growth in one of three ways:
More Campaigns
One approach to creating growth is to increase the number or breadth of the campaigns your marketing team is running. You can contact your current list more often, buy or develop new list(s), segment your list and run more targeted campaigns, and run a range of test offers to a selected group. More approaches to this might include targeting your current customers for upsells or referrals, or finding grassroots ways for people to self-select onto your list(s).
More Sales
If you have the pipeline to support it, you can add more salespeople and possibly close more deals. If you don't, or you don't know if your pipeline will support it, you can add BDRs, SDRs or other pre-qualification methods to see how much you can squeeze out of your current pipeline. You can even expand your internal or outsourced direct contact campaigns, such as outbound calling.
More Products
Upselling and cross-selling are often reliable ways to create additional revenue from your current customers. You can add products to your line, extend your product line or even introduce entirely new but related products to convince your customers you can add more value and that they should spend more money with you.
All of these can work. But the question I put to companies who think just expanding efforts will increase sales is: Will this increase your sales enough to reliably and regularly hit your growth targets?
I can almost see you shaking your head.
The good news is any of these (or combinations) will work well — when you have built the foundation for rapid growth. The one thing you need for any growth efforts to work is simple:
Focus.
I didn't say it's easy. Achieving the kind and level of focus you need to make your growth possible and sustainable is not easy. It probably means a change in how you operate, how you direct and incent people, and how you make hard decisions. But getting to growth means building your tactics on top of focus.
Focus means a narrowly targeted aim at one particular type of customer. In my last post, I discussed how best to understand your current customers to ensure they keep coming back. This is the exact same approach to use to understand your prospects and how you can best meet their needs.
Step one: Promises…
And the most important step in creating focus, is making and keeping the right promises to a specific type of customer. This means using the Concerns Mapping™ approach to develop an understanding of what your prospects need from you, then mapping that to your current and planned capabilities. It also means making the hard decisions to not spend time, effort and resources on anything other than your chosen target prospects.
Once you know which promises are valuable and which you can keep:
Step two: People…
Is ensuring everything your people do is in the service of keeping the exact promises you chose to make in step one. This requires not only ensuring you have the right training, processes, technology, etc. in place, but also that you and your team are not distracted by the proverbial bright shiny objects that may look like good opportunities, but cause you to lose focus and fail to deliver on your promises.
Once you have your people ready:
Step three: Product…
Means making sure your offerings (products and services) are, in fact, delivering on those promises. More than that, it means your future plans and your product roadmap show your prospects how you are going to fulfill the promises you are making now and into the future. Your prospects should clearly see their business in your roadmap.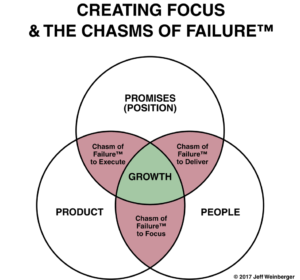 The companies I've worked with to implement this model describe their growth efforts before developing focus as driving a broken-down car and fighting to keep the wheels from coming off. Several have described those same efforts after developing focus as sledding smoothly downhill.
Creating the focus needed for sustainable growth relies on all three of these pieces — promises, people and product — coming together. It is tempting (and easy!) to work on only one of those and assume the others will fall into place. This causes the company to fall into one of the Chasms of Failure™ (in red in the diagram above) and is the most common way growth efforts derail.
This is part one of a five-part series on building the foundation for growth. In parts two, three and four, I will discuss the three Chasms of Failure™, how they derail growth, how companies fall into them and how to successfully avoid them.